Angel Seraphim in mosaic discovered in the St. Sofia Church in Constantinople ( 27.07.2009 )


The conservationists working in the Church of St. Sofia in Constantinople, exposed the image of an Angel Seraphim on the surface. This figure has been covered for 6 centuries till now.
The mosaic presenting one Angel Seraphim has exceptional beauty. It was covered after the fall of Constantinople and the transformation of St. Sofia Church in a mosque in1453, as the other mosaics in the church.
The visitors of the magnificent Byzantine museum – the symbol of Constantinople – will have the opportunity to see the face of Angel Seraphim, in the basement of the great dome of St. Sofia. The figure was covered some years after the fall of Constantinople.
The aim of the conservationists is to discover the second angel to the surface as well.
The Turkish Minister of Culture has visited the museum last Saturday, to observe the progress of the last phase of the reconstruction, in which the mosaic was discovered.
This discovers are considered as very important momentum, because many more perfectly done mosaics are still covered, since centuries ago.
After the fall of Constantinople in 1453, the Turks covered the beautiful mosaics with metal and plaster cast, instead to remove them from St. Sofia.
The discovered mosaic is placed in the triangle's apses, which holds the dome of the temple.
The conservationists succeeded to remove a lot of layers of plastic and metal and discover the mosaic of the angel.
It has to be accented anyway, that the real age of the mosaic will be established only after the findings of the special analyses of the Scientific Commission working on the case, and when such results will be compared with the results of same or similar mosaics.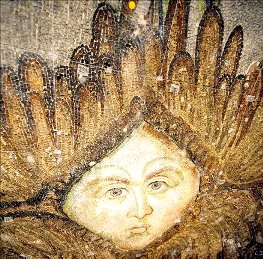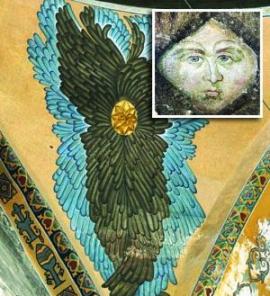 Source: Romfea.gr