Visit of the Archbishop Volkolamskii Hillarion to the Holy Epistasia on the Mount of Athos ( 11.08.2009 )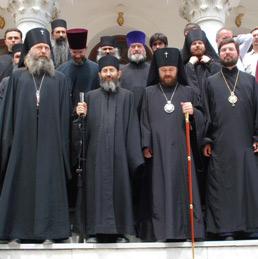 The president of the Foreign Church Affairs Department of the Moscow Patriarchate, Archbishop Volkolamskii Hillarion, has visited today the Holy Epistasia (Supervision) on the Mount of Athos. The Supreme Supervisor of the Mount of Athos, Elder Simeon Dionisiatskii has welcomed Archbishop Hillarion, wishing him nice stay in the Garden of Holy Mother of God and in the offices of the Holy Community (Kinotitha).
The Supreme Supervisor Elder Simeon accented as follows in this occasion: "Your Eminence, welcome to the Mount of Athos. It is our great pleasure that you visited the Holy Epistasia. Please, send our cordial and praying regards to Patriarch of Moscow and all Russia, Cyril, for his well-done service as Head of the Russian Church. The representative of the Saint Panteleimon Monastery was present at the enthronment of the Moscow Patriarch, and a few days ago we have received an invitation for the Holy Community presence in Moscow".
Archbishop Hillarion stated as bellow: "According to the tradition, since many years ago, a delegation of the Moscow Patriarchate comes to the celebration of the Holy Healer Panteleimon, and this year His Holiness Cyril has chosen me for this duty, to be leader of the Russian delegation".
Right after this, the Russian Delegation has visited the Protathos, where they prayed in front of the Icon of the Most Holy Mother of God "Dostojno Est".
Archbishop Hillarion visited the Iviron Monastery as well, to pray in front of the Icon of the Most Holy Mother of God "Portaitisa". There, Archbishop Hillarion has read the Akathist of the Most Holy Mother of God in Greek language, causing tens of followers to admire his ability and to see how Russian archpriests are reading the Akathist in Greek.
Finally, Archbishop Hillarion has visited the Priest Skete of Saint Andrew, where he bowed in front of a part of the head of the First called Apostle.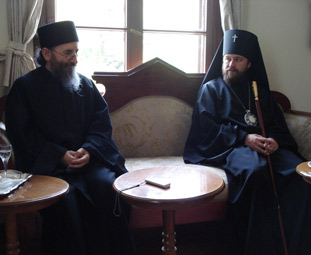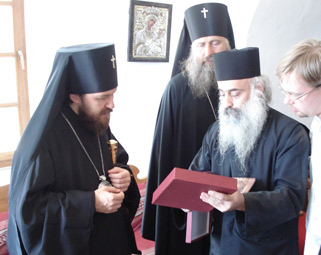 Source: Romfea.gr