Visit of the Archbishop Volkolamskii Hillarion to the Mount of Athos ( 11.08.2009 )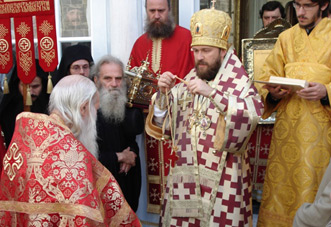 The celebration of the feast of the St. Panteleimon Monastery, in honour of the Holy Martyr and healer Panteleimon, has been celebrated in glory on the Mount of Athos.
At Saturday, August the 8th, a Vigil Service took place, starting at 20.00PM, and lasting till 8.00 next morning. Archbishop Volkolamskii Hillarion was leading this Celebration Liturgy, accompanied by the Archbishop of Sergievo and Postaski Theognost, and the Bishop Bihovskii and Bambruskii Seraphim. The civil administrator of the Mount of Athos Mr. Aristis Kasmiroglou, Russian consul in Thessalonica Mr. Mikhail Hotinenko, the public prosecutor of Russian Federation Mr. Chaika, and representatives of the Police and the Coastal Guard took their presence, as well.
After the end of the Liturgy, a procession with the relics of Saint Panteleimon has been done, around the temple of the monastery.
Archbishop Hillarion read both in Russian and Greek the greetings of the Patriarch Cyril to the present people. And, talking to the thousands of faithful people he accented: "The St. Panteleimon Monastery presents a part of Holy Russia, Ukraine and Belarus, and other Orthodox countries making the same spiritual area."
Archbishop Hillarion paid attention to the contemporary gospel "new commandment I give to you, to love each other" accenting one more time the importance of this commandment in the life of monks, but in the life of ordinary people as well.
If we, who are monks, do not obey completely this commandment, than it is illogic to demand that from the ordinary people" – said Archbishop Hillarion continuing.
He gave an icon of St. Panteleimon to the monastery as a gift, noticing that the icon has been made in Russia and was a gift of an beneficial businessman, "who is present among us here."
At the end, Archbishop Hillarion paid attention to the long-years service of over 30 years, of the Prior of the Monastery, Archimandrite Jeremiah, giving him an upgraded cross saying in this occasion: "Beloved father Jeremiah, do receive this honoured cross, which has been manufactured in the workshops of the Moscow Patriarchate. I do hope it will heat your heart and will constantly help you in doing your honourable duty."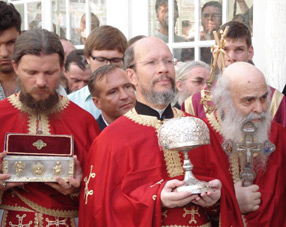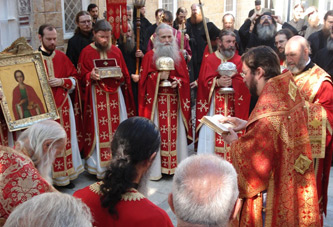 Informs: Romfea.gr