Moscow Patriarchаate on a new official web-site ( 24.09.2009 )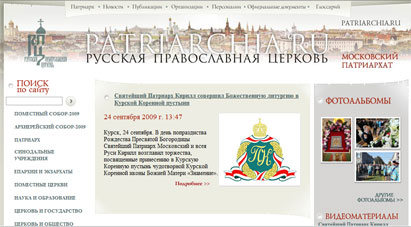 A distinctive official web-site of the Moscow Patriarchate will be available very soon. The site will be constructed on the now existing domain Patriarchia.ru, but the form of the site will be modified, and new headings and rubrics will be established – announced the President of the Press service of the Patriarchate, priest Vladimir Vigilianskii.
Patriarch Cyril entrusted the construction of the new site to Mr. Vladimir Legoyda, Administrator of the Information Department of the Holy Synod of the Russian Orthodox Church who is also the Head Redactor of the Magazine "Toma". The Web Portal Mospat.ru, which is a site of the Foreign Affairs of the Patriarchate, will be renewed too. The opening of the new format of the both sites – the official site of ROC and Mospat.ru – will take place in the same time. Some news will be edited on the both sites. After starting, the new official site of the Patriarchate will receive information from three sources: The information Department of the Holy Synod, The Press service of the Patriarchate, and the Communication service of the Foreign Affairs Department of the Moscow Patriarchate.
Source
: Интерфакс