The Church of Jerusalem canonised New Martyr Archimandrite Philemon ( 30.11.2009 )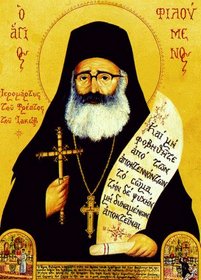 The Patriarchy of Jerusalem, by a Synod's Declaration, at the day of Sunday, November 29th, included Hieromonk Philemon, prior of the Monastery "The Spring of St. Jacob" in Samaria, into the Calendar of Saints of the Orthodox Church. Patriarch Theophilus has celebrated a Patriarchy Holy Liturgy in the monastery church of St. Fotina the Samarian. Patriarch Theophilus read the official announcement in front of the relics of the Saint, about the including of the Holy New Martyr in the calendar.
Hieromonk Philemon have died in martyr at November 29th, 1979, while serving the Vespers. The Holy Philemon is coming from Cyprus, and even as a young he became a member of the brotherhood of the Holy Grave (Tomb) fulfilling the loyal service in the Holy Family "The Spring of St. Jacob" till the end of his life. He was living a quiet, modest and dedicated monks life, always following the monk ideals. His last Service took place in the Monastery "The Spring of St. Jacob", which was mostly visited by Jewish people, as they consider it for their sacredness. Some fanatics were demanding from Father Philemon to remove the Cross, but he was patiently explaining to everyone that the Cross is the sanctity of Christians through many centuries. He was a silent and non-conflict man. At the day of November 29th, 1979, at the day of St. Philemon, he was assassinated by unknown murderers, while he was serving the Vespers, and the murderers have never been found. After the murder, the assassinators have robbed the church and threw a bomb in the temple. Four years after his funeral, the tomb has been opened by the monks, in order his relics (bones) to be moved from there. All present saw that the body of the Archimandrite was intact and fragrant. The grave was closed and opened again at Christmas 1984. His body again was intact and fragrant – the sign that the God's servant has been received in the "land of the living". His relics were then moved in a glass sarcophagus and put on the altar of Saint Sion, where they were a subject of deep admiration many years before the canonisation. Since this year, the Holy Martyr Philemon is officially included in the calendar of the Patriarchy of Jerusalem.
Source: Двери.бг