The Holy Synod of the Bulgarian Orthodox Church didn't accept the resignation request of the Metropolitan of the United States, Canada and Australia Joseph ( 02.12.2009 )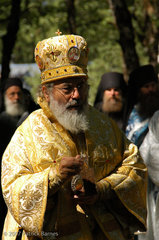 The Holy Synod of the Bulgarian Orthodox Church, on their yesterday's session brought their decision not to accept the resignation submitted by the Metropolitan of the USA, Canada, and Australia Joseph (Bosakov). His resignation became a subject of observance since the last two years, but this was the first time to be taken in consideration in the Holy Synod.
Metropolitans were unanimous not to accept the resignation request of their brother, who apparently does not have health worries. On the other hand, his work and deeds in the eparchy can barely be continued by some new man. His service in more than 27 years there, was not easy, but it may be appraised as very successful, commented a member of the Synod of the Bulgarian Church. His efforts gave good results, a vast number of Orthodox Americans were received in his eparchy, and there is a risk such believers to alter in another Orthodox jurisdiction, in case new Metropolitan would be appointed.
The position of Metropolitan Joseph among the other Orthodox jurisdictions is valued as very good, and it is evaluated as his personal achievement. His braveness here, and on the conferences of the Holy Synod, is supposed to be the guarantee that the right and healthy approach may become superior in the mission of Orthodox Church today.
Source: Дверибг.нет