Official Church Calendar of the Russian Orthodox Church published on internet ( 04.12.2009 )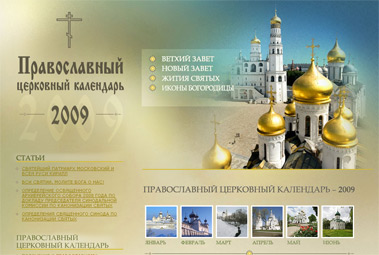 The Publishing Department of Moscow Patriarchy announced the Official calendar of Russian Orthodox Church at their internet site. It is placed on the web: http://calendar.rop.ru
Electronic version is completely the same with the printed edition, though enriched with many additional information, such as instructions for church services, texts from the Holy Bible for everyday use, short hagiography of the Saints, iconographic information about the miraculous icons of the Most Holy Mother of God.
"This Calendar is essentially important for the Church life – accented archpriest Vladimir Syloviev, the heading editor of the Publishing Department of Moscow Patriarchy - This edition is necessary to every priest, layman in their everyday duties. It is completely harmonised with the church practice of the Russian Orthodox Church, and is really a beneficial information reference book."
The links provide quick passing between the edited information: from the month-calendar up to the hagiography of the Saints that are celebrated on that particular day of the calendar, and to the iconographic information for Icon's celebration, instructions for church services, and for the apostle and gospels of the day.
This Calendar contains the complete list of all the Assemblies of the Saints. Furthermore, data of the Local and Autonomous Orthodox Churches and their Heads are given here, and about the Synod's institutions of the Moscow Patriarchy, the bishoprics, spiritual schools, overseas parishes, and representative institutions of the Russian Orthodox Church, as well.
Source: Патриархиа.ру