Patriarch of Alexandria Theodore visits Greece ( 08.12.2009 )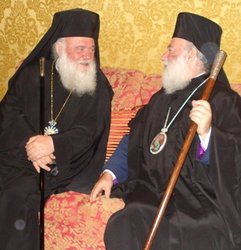 Patriarch of Alexandria Theodore is in a n official visit of Greece since today. Archbishop of Athens Hieronymus welcomed Patriarch Theodore at the airport, while the official reception will take place tomorrow in the Monastery of Petraki in the Synod's Palace, where a high medal of the Greek Orthodox Church will be awarded to Patriarch Theodore.
Patriarch Theodore spoke for the church information service "Amen" about the mission of the Orthodox Church in Africa, for the difficulties they meet and successes they achieve there. According to Patriarch Theodore, the first assignment of the Patriarchy is to organise establishing of new bishoprics and providing cadres in the existing ones. "All metropolitans in Africa are working very actively in their missionary duty, and it is well known that the Africans are very spontaneous. From the time as they listen to the missionary, they are either delighted or not inetersted. Anyway, they receive the faith in God, consciously and by their good will" – stated patriarch Theodore.
"At a continent, as Africa is, where the starvation and poverty follow the everyday life of a great part of the population, Church, helped by many initiatives protects the dignity of human's life and nature, so generously gifted by our God. The spiritual activity of the Church, through love and prayer appears in many ways – satisfying the spiritual and existential needs of people, or standing still in front of the problem of hunger and diseases. However, it is important to have on mind that the main role of the Church is proclamation of God among people. So, in the missions they donate food, clothes, provide medical aid, education in the missionary schools, housing, professional trainings etc, never taking in consideration the religious affiliation of the people. The missionaries never ask someone whether he is an Orthodox, Catholic, Anglican, Buddhist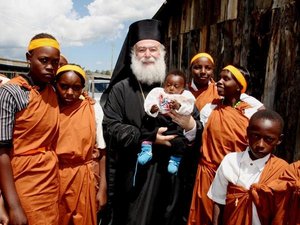 or even atheist to grant him/her humanitarian aid – and this is something very important to understand.
Here I experience great moments, really stirring events that stay deeply fixed in my heart. You simply understand that Jesus Christ is Who endeavours everything, Who completes the imperfection of our deeds... How often I have found myself among new-born children, picked up from trash heaps by our missionaries, thrown there only because of misery, and we must take care of them in our thoughts. I couldn't sleep for nights, not capable to be used to this activity... Mostly, it is the matter of a great misfortune, which the "contemporary and well-organised societies" cannot understand. It is cheering that good people come to us, who are interested and willing to help us – such as a priest who will serve in some bishopric, doctors serving in the missions, missionaries, financially supported by various initiatives. In Africa really, there is a lot of pain, but a lot of happiness in the same time..." – added the Patriarch of Alexandria Theodore.
Report: Дверибг.нет