The work of the Inter-Orthodox Preparation Commission for Whole-Orthodox Assembly begins in Shambezi (Switzerland) ( 07.12.2009 )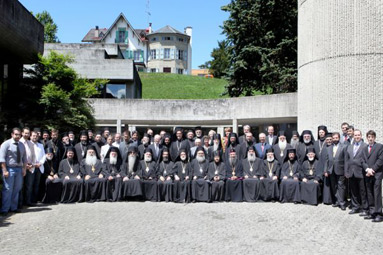 Today, at the Orthodox Centre of the Ecumenical Patriarchy in the Geneva's suburb Shambezi, assembled the representatives of all local autocephalous and autonomous Orthodox Churches, entrusted to take presence at the Inter-Orthodox Preparation Commission for the coming fifth Whole-orthodox pre-assembly conference, in which will be considered three of the themes on the list for the Whole-Orthodox Assembly, or as it is called – The Holy and Ecumenical Assembly of the Orthodox Church. This commission has a duty to prepare the general Orthodox viewpoint related to three subjects: autonomy, autocephaly and diptych. Then the themes will be examined at the level of whole-orthodox pre-assembly conference, so that finally might be concluded as documents for the next summit.
It is expected that over thirty experts from local Churches will come here, and they will, on behalf of their Heads of Churches, represent certain viewpoints on the basis of the holy rules of the Orthodoxy and of the Church tradition. It is also expected that the Metropolitan of Pergam John, who is directing the delegation of the Patriarchy of Constantinople, to be in charge to lead this commission too.
Reported: Dveribg.net