Patriarch of Constantinople Bartholomew celebrated Supplicatory Service in presence of Russian pilgrims ( 18.12.2009 )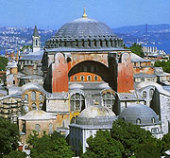 With a blessing of His Holiness, the Russian Patriarch Cyril, a group of Russian pilgrims, lead by the secretary of foreign institutions of the Moscow Patriarchy, the Egorievskii Bishop Mark left to worship the holy Christian places in Turkey.
The Pilgrimage Centre of the Moscow Patriarchy organised this journey.
Beside sixty laymen, the Bishop Bobruiskii and Buhovskii Seraphim, and clergymen of several Russian and Belorussian dioceses took presence in this journey.
The pilgrims took their presence at a Divine Liturgy in the church of Holy Martyr George in Istanbul, in the morning of 16th of December.
After the closing of the Liturgy, His Holiness Bartholomew, Patriarch of Constantinople, celebrated a Supplicatory Service. The Bishops and the clergymen of Moscow Patriarchy co-celebrated His Holiness Bartholomew in his service.
After the Supplicatory service, the Head of Constantinople's Patriarchy, spoke to the present faithful people in a suitable speech.
Then, His Holiness Bartholomew, talked to Bishops Mark and Seraphim.
In this seven-days pilgrimage, a visit of the temple of Saint Sofia in Istanbul has been planned, a service to God in the temple of Saint Nicolas the Miracle-maker in Mira Likiska (Derme), and a visit of the temple of Saint John the Theologian in Kushadasi, as well.
The group is returning back to Moscow at December the 21st.
Source:
Патриархиа.ру