Christ is Risen! Христос воскресе! Hristos a înviat! Χριστός Ανέστη! ( 25.04.2011 )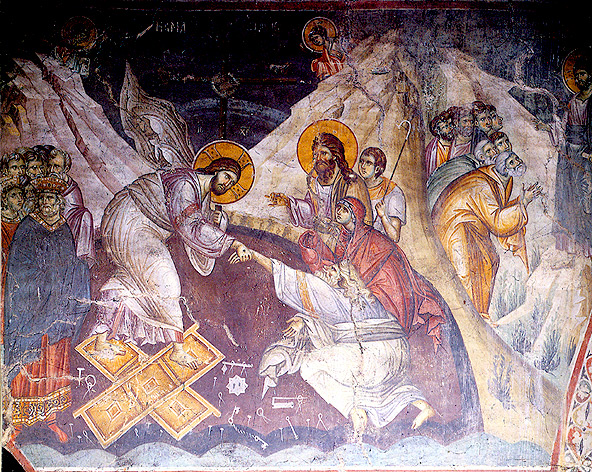 Christ is risen!
Our personal relationship with the Godman Jesus Christ is always determined by our attitude towards our fellowman, whoever he may be. We suffer in this world because obsessed by our self-love we hurt each other. It is hard, yet we who are Christ's have no excuse whatsoever if with all our being we do not strive to love even them who hurt us. The mystical dimensions of the Cross of Christ lie exactly in that: to suffer from the ones we pray for, the ones we do good to and sacrifice for. We must die to our self-love if we want by communicating of the Body and Blood of Christ truly to communicate with God and with one another. Loving to the extent of self-denial, in a graceful interpenetration, let us start living as persons. In our pursuit of Resurrection, we have no other way.
Христос воскресе!
Наше личностное отношение с Богочеловеком Иисусом Христом всегда определяется нашим отношением к ближнему, кем бы он ни был. Мы страдаем в этом мире из-за того, что, будучи охвачены самолюбием, повреждаем друг другу. Как это ни тяжело, но нам, людям Христовым, нет оправдания, если и тех, кто повредит нам, мы не возлюбим всем своим существом. Именно в этом – мистическое измерение Креста Христова: претерпевать страдания от тех, за кого мы молимся, кому делаем добро, и ради кого приносим себя в жертву. Необходимо умереть для своего самолюбия, если, причащаясь Тела и Крови Христовых, мы действительно желаем причаститься Бога и друг друга. Любя до самозабвения, проникаясь друг с другом благодатью, да заживем как личности! В стремлении к Воскресению иного пути у нас нет.
Hristos a înviat!
Relaţia noastră personală cu Dumnezeu Omul este întodeauna determinată de atitudinea fiecăruia dintre noi faţă de aproapele nostru, oricare ar fi acesta. Suferim pe lumea aceasta pentru că, preocupaţi de iubirea de sine, ne rănim unii pe alţii. Este dificil, dar pentru noi, cei aparţinând lui Hristos, nu există nici o justificare dacă nu ne străduim cu toata fiinţa noastră să îi iubim chiar şi pe cei care ne fac rău. Dimnesiunile mistice ale Crucii Lui Hristos constau exact în aceasta: să suferim din pricina celor pentru care ne rugăm, celor cărora le facem bine si pentru care ne sacrificăm. Trebuie să fim morţi pentru iubirea de sine dacă vrem ca, împărtăşindu-ne cu Trupul şi Sângele Lui Hristos, într-adevar să ne împărtaşim cu Dumnezeu şi unii cu alţii. Iubind până la uitarea de sine într-o întrepătrundere plină de har, să începem să trăim ca oameni. Tinzând către Înviere, altă cale nu avem.
Χριστός Ανέστη!
Η προσωπική μας σχέση με τον Θεάνθρωπον Ιησούν Χριστόν είναι πάντοτε καθορισμένη από την σχέση μας πρός τον συνάνθρωπό μας. Πάσχουμε σε αυτό τον κόσμο επειδή κατεχόμενοι από τη φιλαυτία μας πληγώνουμε ο ένας τον άλλον. Είναι δύσκολο, αλλά εμείς που είμαστε άνθρωποι του Χριστού δεν έχουμε καμία δικαιολογία εάν δεν προσπαθούμε με όλο το είναι μας να αγαπάμε και αυτούς οι οποίοι μάς πληγώνουν. Οι μυστικές διαστάσεις του Σταυρού του Χριστού αποτελούνται ακριβώς από το εξίς: να υπομείνουμε πληγές από αυτούς για τους οποίους προσευχόμαστε, τους κάνουμε ευεργεσίες και γιά τους οποίους θυσιαζόμαστε. Πρέπει να πεθάνουμε γιά την φιλαυτία μας εάν θέλουμε κοινωνόντας με το Σώμα και το Αίμα Χριστού αληθινά να κοινωνήσουμε με τον Θεόν καί μεταξί μας. Αγαπόντας μέχρι λησμονή του εαυτού μας και κατα χαριν περιχωρημένοι, να αναβιώσουμε σαν πρώσοπα. Αποβλέποντας πρός την Ανάσταση, άλλη οδός δεν έχουμε.
Христос воскресна!
Нашиот личносен однос со Богочовекот Исус Христос е секогаш определен од односот спрема нашиот ближен, па кој било да е тој. Страдаме во овој свет бидејќи обземени од своето самољубие се повредуваме меѓусебно. Тешко е, но ние кои сме Христови немаме никакво оправдување ако и оние кои нè повредуваат не се потрудиме со сето свое битие да ги љубиме. Мистичните размери на Крстот Христов се состојат токму во тоа: да претрпиме страдања од оние за кои се молиме, на кои добро им чиниме и за кои се жртвуваме. Треба да умреме за своето самољубие ако сакаме причестувајќи се со Телото и Крвта Христови вистински да се причестиме со Бог и еден со друг. Љубејќи до самозаборав и проникнувајќи се благодатно, да заживееме како личности. Стремејќи се кон Воскресението, друг пат немаме.
Христос воскресна!
1. Христос воскресе! (Russian)

2. Christ is Risen!

(English)

3. Christos Anesti!

(Greek)

4. Ji-du fu-huo-le!

(Chinese)

5. Hristos a Inviat!

(Romanian)

6. Al Masieh Qam!

(Arabic)

7. Христос воскресна!

(Church-Slavonic)

8.

¡Cristo ha resucitado!

(Spanish)
| | | |
| --- | --- | --- |
| Albanian | Krishti u Ungjall | Vertet Unjal! |
| Arabic | Al Masieh Qam! | Haken Qam! |
| Bulgarian | Hristos Voskrese! | Vo Istina Voskrese! |
| English | Christ Is Risen! | Truly He Is Risen! |
| French | Le Christ est Ressuscite! | En Verite Il est Ressuscite! |
| German | Christus ist Erstanden! | Er ist Wahrhaftig Erstanden! |
| Greek | Christos Anesti! | Alithos Anesti! |
| Italian | Cristo e Risorto! | Veramente e Risorto! |
| Latin | Christus Resurrexit! | Vere Resurrexit! |
| Romanian | Cristos a Inviat! | Adevarat a Inviat! |
| Russian | Khristos Voskrese! | Voistinu Voskrese! |
| Spanish | ¡Cristo ha resucitado! | ¡En verdad ha resucitado! |
| Turkish | Hristos Diril-di! | Hakikaten Diril-di! |
| Ukrainian | Khristos Voskres! | Voistinu Voskres! |
| Chinese (Mandarine) | Ji-du fu-huo-le! | Zhen-de Ta fu-huo-le! |
| Indonesian | Kristus telah bangkit! | Benar Sudah Bangkit! |