Archbishop Tikhon Elected as the New Primate of Orthodox Church in America ( 14.11.2012 )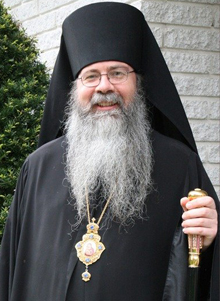 Archbishop Tikhon of the Diocese of Eastern Pennsylvania has been elected as the new Primate of the Orthodox Church in America (Archbishop of Washington, Metropolitan of All-America and Canada). He was elected by the All-American Council which is the highest legislative and administrative authority of OCA.
Biography
After receiving his Master of Divinity degree from Saint Tikhon Seminary in 1993, he was appointed instructor in Old Testament at Saint Tikhon Seminary. He continues to serve as Senior Lecturer in Old Testament, teaching Master level courses in the Prophets and the Psalms and Wisdom Literature. He is also an instructor in the seminary's Extension Studies program, offering courses in the lives of the Old Testament saints, the liturgical use of the Old Testament, and the Old Testament in patristic literature.
Bishop TIKHON collaborated with Igumen Alexander (Golitzin) in the publication of "The Living Witness of the Holy Mountain," published by Saint Tikhon Seminary Press, by illustrating this classic book about Mount Athos.
In 1995 he was tonsured to the Lesser Schema by His Eminence, Archbishop Herman, and given the name Tikhon, in honor of Saint Patriarch Tikhon, Enlightener of North America. Later that year he was ordained to the Holy Diaconate and Holy Priesthood at Saint Tikhon Monastery. In 1998 he was elevated to the rank of Igumen, and in 2000 to the rank of Archimandrite.
In December 2002, he was appointed by Metropolitan HERMAN to serve as Deputy Abbot of Saint Tikhon Monastery.
His Beatitude, Metropolitan HERMAN presided at the consecration of the then Archimandrite Tikhon [Mollard] to the episcopacy at Saint Tikhon of Zadonsk Monastery on Saturday, February 14, 2004.
His Grace, Bishop TIKHON was officially enthroned as Bishop of the Diocese of Eastern Pennsylvania on Saturday, October 28, 2005, at St. Stephen's Cathedral in Philadelphia.