15 years Anniversary of Establishing the Diplomatic Relationship between the Russian Federation and Republic of Macedonia ( 02.02.2009 )


The 15 years anniversary of the establishing diplomatic relationship between Russian Federation and Republic of Macedonia was celebrated in a Festive Party organised by the Embassy of the Russian Federation in Skopje.
Russia is one of the world super-powers, recognising among the first ones, Republic of Macedonia under its constitutional name.
Russian Federation recognised Republic of Macedonia under its constitutional name at August the 4th, 1992, and the diplomatic relationship on an Embassy level among the two countries have been established at January the 31st 1994.
"This is a good opportunity to remind ourselves of that important decision 15 years ago – the recognising of the Republic of Macedonia by the Russian Federation, first of its independence and its constitutional name. I think that the importance of this jubilee will become bigger with the time passes. This is one more reason to evaluate the relations between the Russian federation and Republic of Macedonia as good and friendly, I am of the opinion there are a lot of possibilities to deepen and strengthen such relations, particularly in the field of economy" – stated the Minister of Foreign Affairs, Mr. Antonio Milososki.
The Russian Ambassador in the Republic of Macedonia, his Excellency Vladimir Solocinski stated that among the Russian Federation and the Republic of Macedonia a dynamic political dialogue was established and supported, the trade and economic relations are advancing in a right manner, and the cultural and humanitarian connections are constantly widening.
Minister Milososki expressed the greetings on the occasion of the enthronement of the Patriarch of the Russian Orthodox Church Cyril, on behalf of the Government of Macedonia and the Russian community in Macedonia. He expressed the hopes that the connections between the Russian and Macedonian Orthodox Church will be strengthening by his taking the Throne of the Church.
"This appears to be an important event in the life of our country, and it will have a big role in making stronger the relations between our two states" – stated Ambassador Solocinski thanking for the greetings.
For their personal efforts in advancement of the Russian - Macedonian relations, and for promotion of the Russian culture over the world, a State Medal – "Alexander Puskin" was awarded to Macedonian Academicians Gane Todorovski and Milan Gjurcinov, at the celebration. The decree for awarding them the medal was the last year signed by the Russian President Mr. Dmitri Medvedev.
On the celebration, on which Macedonian Archbishop Stephen, Metropolitan of Polog and Kumanovo Cyril and Metropolitan of the Bregalnica Hilarion were present, together with the Minister of Defence Mr. Zoran Konjanovski and representatives of the diplomatic corps, an Exhibition about the history of the Russian – Macedonian relations was opened.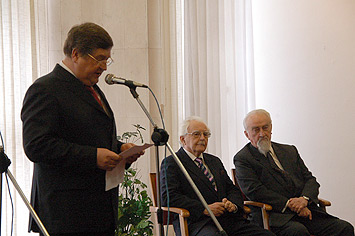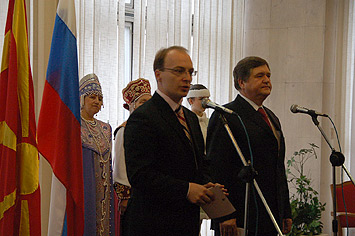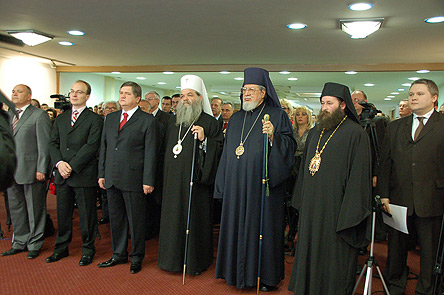 Reporting: Kalina Trpeska