Bigorski ( 21.02.2005 )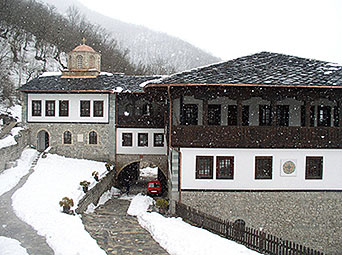 On the day when the Holy Church celebrates the prayerful memory of our Holy Father Parthenius, episcope of Lampsaka, which this year is on the Sunday of the Publican and the Pharisee, which marks the beginning of the preparations for the Great Lent, in the Bigorski monastery gathered a great number of spiritual children of the monastery elder, the archimandrite Parthenius, who has the God-pleasing Parthenius of Lampsaka as his prayerful intercessor.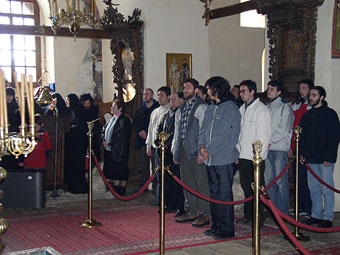 In honour of his nameday, in the monastery of Saint John the Baptist (Bigorski) gathered the monastic brotherhood, the sisterhood of its metochion in Rajčica – the female monastery of the Holy Great-martyr George the Victor, and his numberless spiritual children who live in spiritual struggle in their homes 'in the world'.
The veneration of Saint Parthenius of Lampsaka started with the festive Vespers at which were present the early arrived guests, and at the festive Matins and the Divine Liturgy the assembly in its full number offered heart-felt doxology and supplications to the glorified Saint and through him to the spring of all holiness and well-being, our most compassionate God, the Holy Trinity.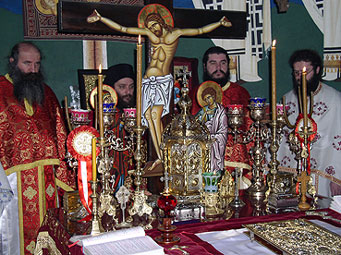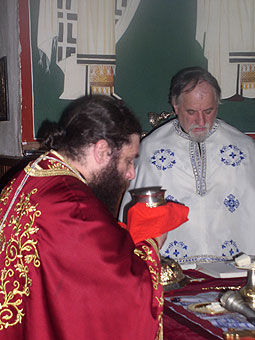 At this worship apart from the hieromonks of the Bigorski monastery, also served their former fellow-brother, the hieromonk Bartholomew, today the superior of the monastery of All Saints in the village of Lešani and the hierarch's deputy in Debar, Fr. Blagoj Spiroski. To common regret, the Episcope Timothy due to illness was not present at this assembly.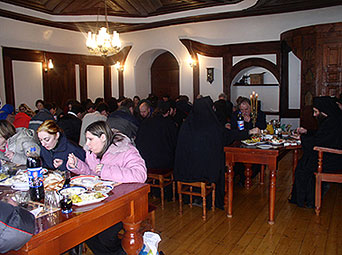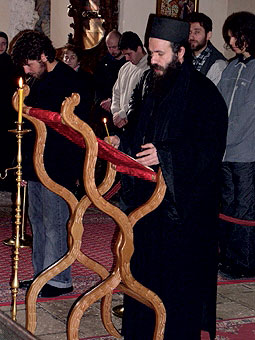 We thank God Who has overshadowed with His grace the monastic struggle of elder Parthenius for already 10 years, and by this also for the ten-year-old renewal of the monastic brotherhood in the Bigorski monastery, under the episcopal blessing of His Eminence Metropolitan Timothy of Debar, Kičevo, and Plaošnik.