Senior priests do not recognize Eirinaios ( 05.05.2005 )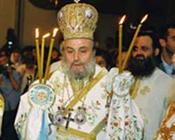 The atmosphere is weighing heavily in the Patriarchy of Jerusalem. In a letter sent a short while ago, eleven Metropolitan Bishops and twenty-three archimandrites, all members of the Holy Sepulchre community, declare that they no longer recognize Eirinaios as Patriarch, and that they are cutting off all contact with him. In fact, seven of the undersigned clerics are members of the Holy Synod, to which Patriarch Eirinaios is likely to make changes before the end of the day. In their letter, the clerics blame Eirinaios for the crisis that has arisen in the Patriarchy of Jerusalem and call for him to either resign or be removed. So far, there has been no official reaction from Fanari, while circles in Jerusalem estimate that the letter will further accelerate the developments in the Holy Land.
Removal or Resignation
The letter states that Patriarch Eirinaios is personally responsible for the situation in the Patriarchy, and makes accusations against him, saying that he is possessed by "a spirit of falsehood, ecclesiastic deception and devaluing and downgrading the Synod system."

At the same time, the undersigned claim that the Patriarch harms the prestige of the Patriarchy and "is unable to carry out his duties as a person not basing himself on the norm, custom and the law," while they accuse him of being behind the sales and long-term rentals of land.

As they stress, the "only way out" is for Eirinaios either to leave or be removed, and they call for a convocation of the Synod of Orthodox Churches to solve the problem.
information taken from www.ert.gr