The partakers of the meeting in the Ecumenical Patriarchate asked Mr. Eirinaios to resign ( 16.05.2005 )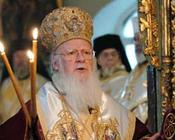 Rapid developments in the thriller with the Patriarchate of Jerusalem. On Monday afternoon, during a meeting in Phanar attended by Mr Eirinaios' representative, Ecumenical Patriarch Bartholomew and the Patriarch of Alexandria, Theodoros, asked for Mr Eirinaios' resignation, deciding that it was the only solution to the deadlock situation in the Jerusalem Patriarchate. Mr Eirinaios' representative, the Metropolitan Bishop of Nazareth, Kyriakos, rejected all accusations and asked for more time. The intervention of the two top Hierarchs was welcomed in Jerusalem, while according to sources, the Holy Sepulchre Brotherhood's official reaction is expected on Tuesday. Now the interest will focus on the Ecumenical Patriarchate's Holy Synod, which will convene on Tuesday in order to set a date for the convocation of a Major Synod, which will decide on Mr Eirinaios' fate
Holy Sepulchre Brotherhood Satisfied
Others who participated in the meeting, which took place in the Ecumenical Patriarch's office, included: the Metropolitan Bishops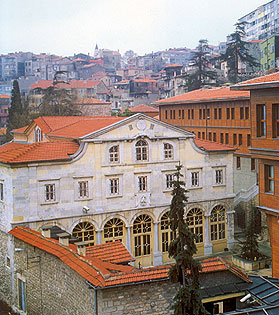 of Pergamos, Belgium, Karpathos, Toronto, Ikonion, Philadelphia and Sevasteia, as well as the Synod head secretary, Archimandrite Elpidoforos.

The Metropolitan Bishop of Nazareth claimed that all the allegations against Mr Eirinaios were false and that the Patriarch never signed any leases, while he asked Mr Bartholomew to intervene in order to reconcile all sides.

According to sources, Mr Bartholomew clarified that the Ecumenical Patriarchate does not operate as a judge and that Mr Eirinaios would have to resign, even if he is right, for the sake of peace in Church and as a matter of dignity.

On Tuesday, Phanar's Holy Synod will convene to discuss the crisis with the Patriarchate of Jerusalem, while it is expected to decide on officially recognizing the three-member committee temporarily assigned to administrate the Patriarchate.

It should be noted that Mr Eirinaios refused to attend a meeting in Istanbul for the second time, a fact that has annoyed the Ecumenical Patriarchate. Actually, Mr Eirinaios' other representative, Archimandrite Eirinaios, was not allowed entry to the meeting and had to wait in the Ecumenical Patriarchate's courtyard.
the infromation is taken from: http://news.ert.gr/en/newsDetails.asp?ID=7927