The Annunciation celebrations in Moscow ( 07.04.2006 )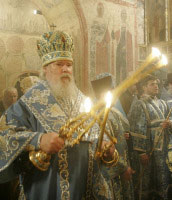 Today, the Russian Orthodox Church celebrates the feast of the Annunciation of the Most Holy Theotokos with numerous joyful ceremonies and worship. Last night, on the eve of the feast, Patriarch Alexy II of Moscow and All Russia performed an all-night Vigil in the church of Saint Nicholas in Zvonari, in the dependency of the Dormition Pyukhtitskiy monastery.
The Patriarch celebrated the festive Divine Liturgy in the cathedral of the Moscow Kremlin, dedicated to the Annunciation of the Most Holy Theotokos. Following this, in the large cathedral in the holy Donskoy monastery, the Patriarch performed a supplication service before the relics of the holy Moscow patriarch Tikhon, who reposed in the Lord on this day in 1925.
After the supplication, according to the old Russian Annunciation tradition, Patriarch Alexy let out doves and addressed the present faithful with edifying words. Afterwards he visited the newly built monastery church dedicated to the devout prince Alexander Nevsky.
"The Feast of the Annunciation of the Most Holy Mother of God amidst Lent is a joyful and bright ray pointing that we are not orphans and that the Heavenly Queen intercedes for all of us before God's throne", the primate said.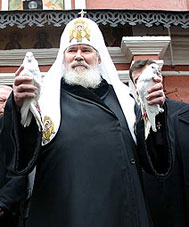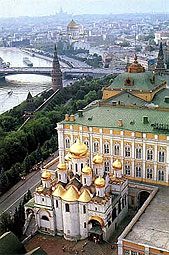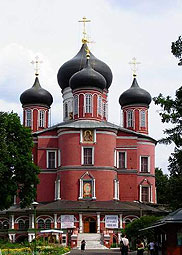 cathedral of the Annunciation in Kremlin large cathedral in the Donskoy monastery