The monastery catacombs to be preserved by relocation of the main motorway of Sarov ( 09.04.2006 )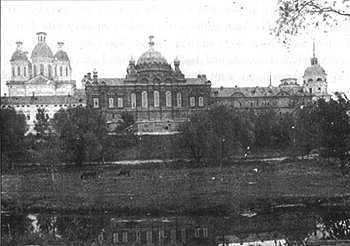 According to the Dmitry Sladkov, the assistant director of the Russian Federal Nuclear Center and member of the directorate of the Venerable Seraphim of Sarov Fund, the arterial road passes above the unique ancient underground monastery buildings, and the daily train of cars will be inconvenient for the underground space. Therefore it is planned the city motorway to skirt the monastery in the future.


Sarov monastery, 1936
In 2006 the Sarov desert is marking its 300th anniversary. The celebration will take place by the end of July or in the beginning of August in Sarov and Divyeevo. On the occasion of this jubilee, renovation will be carried out of the monastery church of Saint John the Forerunner and the underground church of Saints Anthony and Theodosius of the Kievan Caves, the construction of which, according to tradition, started back in 1690.
The Sarov monastery catacombs are unique constructions. By the end of the 19 century the monks had managed to arrange the underground complex in such a way that their exceptional ambiance has attracted countless pilgrims.
the old church in the Sarov monastery
Source: Annews