On April 30, the Russian Orthodox Church is to perform a Memorial Service for the Chernobyl tragedy victims ( 27.04.2006 )


In the churches of the Moscow Patriarchate on 30 April 2006, twenty years after the Chernobyl disaster, a memorial Service will be performed for the victims of this accident.
The head of the communication office of the Department for External Church Relations of the Moscow patriarchate, the priest Mikhail Prokopenko, stated that in December last year the Holy Synod of the Russian Orthodox Church had instituted performing prayers in the orthodox shrines for this disaster's victims, and also for the health of those who labor to alleviate its consequences.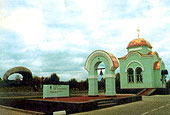 He underlined that the attempt to remove the consequences of this tragedy is a constant effort that demands self-sacrifice and is always risky for the life of the people who to present day have lain down their lives for others.
Source: Interfax
Chapel of the Most Holy Mother of God "Joy of all Who Sorrow"