Delegation of the Russian Orthodox Church visits Ethiopia ( 17.06.2006 )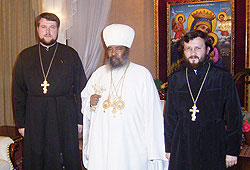 On 7-12 June 2006, a delegation of the Moscow Patriarchate Department for External Church Relations visited Ethiopia. The purpose of the visit was to revitalize the many-sided ties, which had existed in the past between the Russian Orthodox Church and the Ethiopian Church (Tewahedo), but have become occasional recently. In particular, possibilities of renewing the programme of student exchange, mutual visits of church delegations and theological dialogues were discussed.
On June 9, the delegation of the Russian Orthodox Church visited the Sebata Convent near Addis-Ababa. The Convent is engaged in active social work and keeps an orphanage for parentless girls. On June 11, the feast of Pentecost, representatives of the Russian Orthodox Church visited the Cathedral of Christ the Saviour and attended Divine liturgy in the church of the Orthodox Church of Alexandria. That same day they visited the Debre Libanos Monastery, one of the most well-known monastic centres of the Ethiopian Church.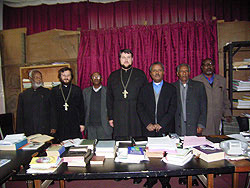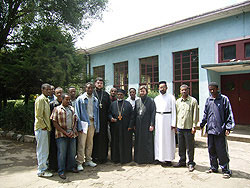 Informs: the Department for External Church Relations of the Moscow Patriarchate