Greek Hierarchs will ask for country-wide rallies... ( 26.02.2008 )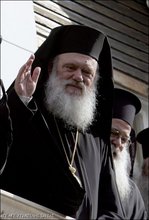 A group of dignitaries from the Greek Orthodox Church close to the Metropolitan of Thessalonica, Antim, on the upcoming meeting of the Holy Synod of the Greek Church, will ask for organizing of global Greek rallies against the official recognizing of the name Macedonia for their northern neighbor. Contrary to these rumors, there is no such topic on the official meeting agenda. The Metropolitan of Thessalonica will have the full support of all metropolitans from the North Greece, and they will try to repeat the picture from 1992-1993 when the country was flooded with church-initiated rallies against the "accepting of the name Macedonia" from the former Yugoslav republic, or "Skopia", as the Greeks call it.
The Archbishop of Athens and All Greece, Hieronymus, announced that he would not like for the first meeting to be marked with separations and forming of "church blocks", but if that happens, he will confirm his position against rallies and misuse of the Church authority in political goals of the state.
"The Government is responsible for the foreign policy of the State, especially for the national questions, which demand very delicate and precise actions" – said the newly elected Archbishop as an answer to the reporters questions. According to the Archbishop's staff, there is a possibility for him to change his opinion only of the Government of Greece ask him for an intervention from the Church.
Source:
Dveri.bg