Russian Church against compromise on belief-preaching with Catholics - Metropolitan Kirill ( 23.01.2009 )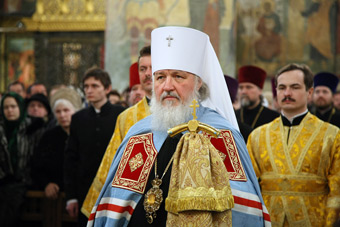 Moscow, January 21, Interfax - There can be no room for any compromises on belief-preaching issues in the dialogue between the Russian Orthodox Church and the Catholic Church, Metropolitan Kirill, the Moscow Patriarchate Locum Tenens, said in an interview published in the Argumenty i Fakty weekly on Wednesday.

"The Roman Catholic Church's position on many issues of social life is closer to the Orthodox point of view [than that of the Protestants]. Anyway, we bear in mind a whole range of differences in the belief-preaching and practice of the Orthodox and Catholic Churches. No compromises can be made in this area," he said.

As for the Russian Church's relations with foreign faiths, "all parties are aware of all existing fundamental differences," Metropolitan Kirill said. "And the very fact of our dialogue does not mean that we seek to become a single entity," he said.

"For instance, Russia maintains relations with the U.S., but it by no means seeks to become one of the American states," he added.

Differences in the belief-preaching and religious practice of the Orthodox Church and foreign faiths "are now growing," Metropolitan Kirill said. "Relations have completely been severed" with some of the Protestant communities - the Lutheran Church of Sweden and the U.S. Episcopal Church - "because of their official approval of homosexuals," he said.

The Orthodox Church is "that One Holy Catholic Apostolic Church through which God opens the road toward eternal life," he said.
Source: Directions to Orthodoxy