33 years anniversary of the ordination of the Russian Patriarch in Bishop's rank ( 16.03.2009 )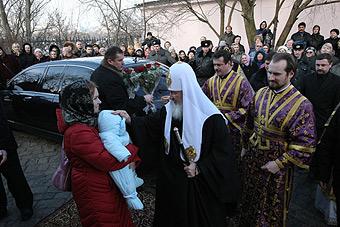 At March, 14th, thirty three years ago, Patriarch of Moscow and the whole Russia HH Cyril, has been ordained as a Bishop, by his spiritual father Metropolitan Nicodemus.
In the occasion of this anniversary, Patriarch Cyril has celebrated a Divine Liturgy in the church of the Holy Life-giving Trinity in Moscow. He called the clergy to serve with their highest devotion both to God and people, despite all possible consequences for their health and career.
"I will never spare myself while serving to God… We must never say: I will not do this or that sparing my health, because exactly then you will lose it" – said Patriarch Cyril in his sermon.
Patriarch Cyril accented that God never stays indebted, and as much we are ready to devote ourselves to Him, as more He is giving to us.
"The most important is that we have always on mind, that we are not led by our human virtues or abilities, and we are not led by our human diplomacy, but only God leads us through life. We must be open and brave in our serving of God" – continued Patriarch Cyril.
He also considers that all those priests who carry lower ranks must not think of how to act in achieving promotion in their profession.
"The soldier, who imagines becoming a general and then to show his talent, is a very bad soldier. It doesn't go like this" – noticed the Patriarch, accenting that the talent of serving to the Church is shows in all levels of such service – from sacristan to patriarch, and you must serve always giving your best, as it is the most important act of life, in every moment of your life.
Talking about this matter, Patriarch Cyril added that he was many times reprimanded due to his too big braveness, but he is determined to continue being honest and openhearted, and this never bothered him to become patriarch.
At the end of his speech, Patriarch Cyril spoke to the clergy and the present believers, asking them to support him in his patriarchy service with their prayers.
Bishop Mark expressed his greetings to Patriarch Cyril, in the occasion of this anniversary, giving him a basket full of 33 white roses, accordingly to the 33 years of his bishop's service.
More than two thousand people were present to this Divine Liturgy. Many of them couldn't find space in the little temple, so that the priests were standing with the Holy Chalice on the front door of the temple, for the time of the Holy Communion. The Liturgy was broadcasted through big video-screens.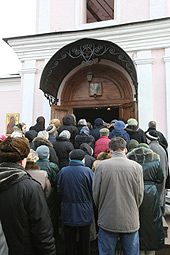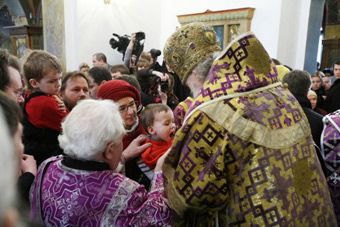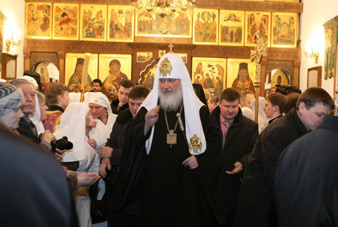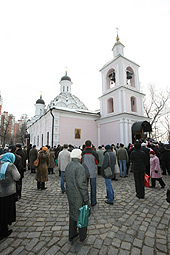 Source: Интерфакс, Патриархиа.ру