Georgian Patriarch Elijah II once in a week to meet with young people ( 17.03.2009 )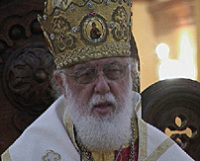 Patriarch of whole Georgia, Elijah II will give lessons to the young people, every Tuesday afternoon at 3 PM. The meetings will take place at the building of the Centre for Spiritual and Intellectual Education of the Youth, of the Georgian Patriarchate.
The Head of Georgian Church will talk to the youngsters about different subjects of interest, and will answer to their questions.
The presence to these lessons is by the free choice of all the interested.
Source: Патриархиа.ру