Russian Orthodox Church to establish a TV channel ( 21.03.2009 )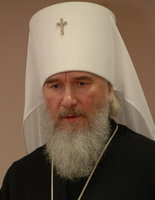 The Russian Orthodox Church is ready to found a TV channel on federal level – sated the Metropolitan of Kaluzhskoye Clement in an interview given to the newspaper "News".
"We do cooperate very well with the federal TV channels, preparing film stories and lessons from the Church matters. We may now state firmly, that we are making efforts to establish a fully directed Church channel – stated Metropolitan Clement answering the question whether the Church would be able to found such a channel in the near future.
"There are skilled people among us having professional experience in the world media works, including TV, people who understand very well the specifics of TV matters" – added Metropolitan.
Besides, there are a lot of movie festivals taking place in Russia with unavoidable presence of the Russian Church, such as "Golden Knight", "Russian Family", and "Meeting" where the films are projected in a very high professional level.
"These films are nice, but they don't go so often on TV, because they cannot withstand the "competition" of films with banal contents. So, the creation or founding of such a channel will help such films to be shown to a wide audience, carrying in the life of every man love and goodness" – said Metropolitan Clement.
Source
: Дверибг.нет