Americans show increased interest for the Russian New-Martyrs and Confessors ( 26.03.2009 )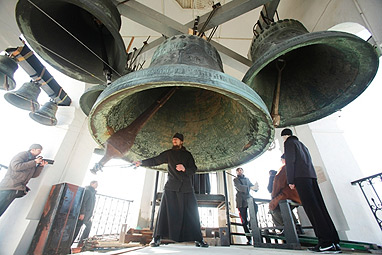 Since March the 17th, a significant increase of visits of the database about "The Russian New-Martyrs and Confessors" - inform from the Faculty of Informatics and Mathematics of the Orthodox Humanitarian University Saint Tikhon. Profeesor N.E. Emelianov informed the presents of this event.
According to Professor Emelianov, the analyses of the statistical data received, shows that this dramatic increase of the interest about the database is connected with the celebration of the first tolling of the bells returned from Harvard (USA) in the Daniel's Monastery, at their place of origin, at the day of the faithful duke Daniel from Moscow.
The festive service to God in Daniel's Monastery at this day has been led by His Holiness Cyril, the Patriarch of Moscow and all Russia. In his sermon, he called the people of Russia and America to turn themselves to Christ. "Let God help us, as in the prayers of Saint Daniel from Moscow, the sound of these bells to help both Americans and Russian not to leave the road towards God" – said Patriarch Cyril.
Professor N.E. Emelianov connects the increase of the activities of American visitors of the database of "The Russian New-Martyrs and Confessors", exactly with the call of the Head of the Russian Orthodox Church. In addition, the number of visitors grows in more than 7 days. The number of such visit of the database grew up for 5 times more, which results increase in general for 15-20%.
Source: Патриархиа.ру