Metropolitan Jonah of All America and Canada will visit Russia ( 27.03.2009 )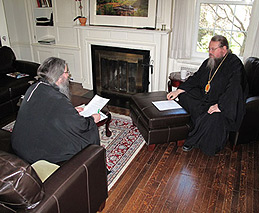 On Saturday, March 21, 2009, His Beatitude, the Most Blessed JONAH, Metropolitan of All America and Canada received Archimandrite Zacchaeus, his official Representative to the Moscow Patriarchate at the National Chancery in Syosset, New York.
During the course of the meeting, Archimandrite Zacchaeus was able to report to His Beatitude about the activities of St. Catherine the Great Martyr Church – the Moscow Representation of the Orthodox Church in America and the plans being made for the celebration of the 15th Anniversary of its being established in 1994. It is hoped that the year-long 15th Anniversary celebration will begin with His Beatitude's visit after Pascha and end on the parish patronal feast day in December, 2009. Likewise, detailed plans for the upcoming first official visit of His Beatitude to Moscow were discussed, which will be presented for review to His Holiness, Patriarch KIRILL of Moscow and All Russia upon Archimandrite Zacchaeus' return to Moscow in two days.
Also participating in the meeting were Archpriest Alexander Garklavs, Chancellor of the Orthodox Church in America and Archpriest Leonid Kishkovsky, the Director of the OCA's Office of External Affairs and Interchurch Relations.
Source: Representation of the Orthodox Church in America of the Moscow Patriarchate