Theology to become obliged subject in Greek schools ( 01.04.2009 )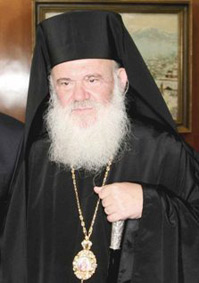 The Permanent Holy Synod of the Greek Orthodox Church, and its Head of Church, the Archbishop of Athens and the all Greece Ieronymos, sent a letter to the Minister of Education and Religion matters Mr. Aris Spiliotopulos, stating the unchanged position of the Greek Church, concerning the issue of obliged education in Theology in the schools for Orthodox students (as it stays in the Constitution), and for employment of more graduated students of Theology. It is accented in the letter that the number of graduated students of theology grows every year, so that the total number of unemployed such Theology degree students is four thousand people at this moment.
It was also notified that the need to help these young people by employing them as guides in the national or other museums, or as members of the eparchy's staff in Greece.
Source
: Romfea