No meeting between Patriarch Cyril and the Pope was organised ( 08.10.2009 )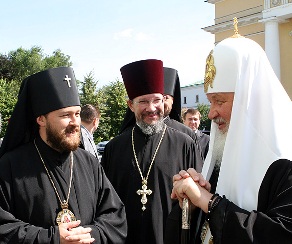 The President of the Foreign Affairs Department of the Moscow Patriarchate, Archbishop Hillarion, denied yesterday all speculations that Patriarch of Moscow and whole Russia, HH Cyril will visit Vatican in the near future.
"There is no any sign of such preparation Patriarch Cyril to visit Vatican, or any particular country, neither there is any precise time of such activity" – accented Archbishop Hillarion.
Archbishop Hillarion stated also, "the question of the Pope Benedict to Russia hasn't been discussed at all, because such meeting could happen in some neutral place".
Archbishop Hillarion reminded further on, that the main objective of the dialogue among the Orthodox and Roman Catholic Church is not simply one meeting of the Heads of Churches, but it is "the fundamental improvement of our relationship, and overcoming of the existing problems".
At the end, he prompted the problem of the Pro-elitism, which exists and represents a very aggressive policy at the 90's of the last century, and the expansion of the Greek-catholic union in Ukraine, as well.
Source
:
Romfea.gr